Is it really already that time of year again? The Super Bowl party invites have been sent and you are undoubtedly going to be surrounded by a crowd of people, some of which are there for more than the food and commercials. If you are clueless to the football world, as am I, but find yourself wanting to impress your friends, boyfriend or husband, you've stumbled upon the right blog.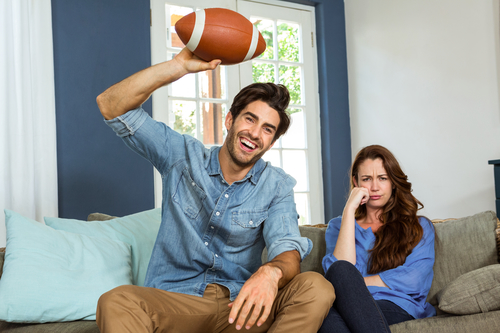 Here are 10 tips for clueless women watching the Super Bowl this year:
1. Know the Basics
In case you missed last year's blog, I'm repeating this crucial and foundational step to your Super Bowl success. You have to understand (some of) the basics of football. Here's a quick two minute video that explains everything a clueless woman should know approaching the game. It's animated, so that should help keep your interest.
Also, as a side note, there is no "Fifth Down." This can be very confusing because everyone likes to yell "Fourth Down" very loud and excitedly. Don't do the same for "Fifth Down." I repeat: There is no "Fifth Down." Not that I ever made this mistake personally…
2. Know the Teams
This year the New England Patriots are playing the Atlanta Falcons. There are a quite a few strategies to choosing your favorite team:
• Pick your favorite mascot.
• Pick your favorite colors.
• Pick the team closest to your geographic location.
• Pick the team your loved one is rooting for.
• Pick the team your loved one is rooting against (my personal favorite).
• Pick the team with the cutest players (my single girl strategy).
Of course, no matter the strategy you choose, do not share this out loud. Remember to look the part and wear the colors of the favorite team you choose (this is a great opportunity to go shopping). Here's a sneak peak into this year's team colors and logos to help you choose: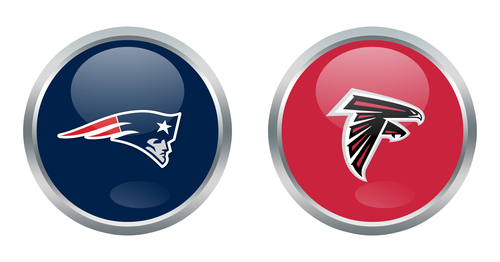 3. Know Key Players
As was last year, this one seemed boring to study so I'm only giving you one player from each team to memorize. I usually just try to memorize quarterbacks (the dudes who throw the ball a lot). Matt Ryan (#2) is QB for the Falcons and Tom Brady (#12) is QB for the Patriots.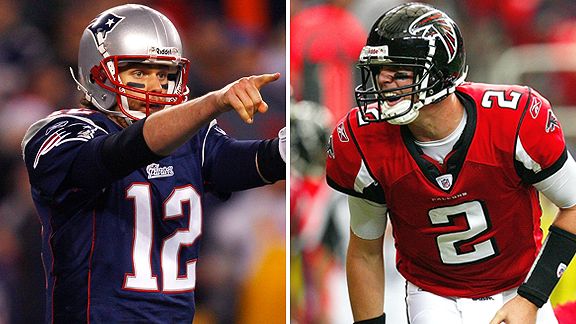 4. Refer to your Fantasy Team
Most crazy football fans play Fantasy Football. It's basically the socially acceptable form of Dungeons and Dragons (don't repeat that). A good time to refer to your Fantasy Team is after someone makes a good play. Just murmur under your breath, "Geez, he didn't do that when he was on my fantasy team."
5. Know Nicknames
If you know player nicknames you will really have your friends fooled. Make sure you call Matt Ryan (remember, #2 on the red and black team) "Matty Ice" at some point in the game. After he throws a touch down would be a good time for this. Here's an article I didn't read about his nickname if you want bonus points.
6. Know Who is Retiring
Some players on the field are playing their last game of their career. This game happens to be Michael Vick's (#7, Falcons) last. At some point when he is mentioned be sure to quietly murmur, "We sure are gonna miss Vick next year," or "Man, I can't believe he's done after this."
7. Know a Couple Random Stories of Players
Patriots quarterback Tom Brady (#12) was suspended for his first four games of the season for "Deflategate" – I don't know what the heck that is or even think that's a real word but that's what Google says. He then had one of his best years. So feel free to murmur something like, "I still can't believe Brady bounced back from his beginning of the year suspension as well as he has."
For the Falcons, a nice random fact is that #11, Julio Jones had nine receptions (aka caught the ball) for 180 yards and two touchdowns in the NFC title game despite a toe injury. So a good one-liner when you see #11 on the field would be, " that toe injury sure hasn't stopped Julio".
8. Know Key Football Phrases
Get a few football phrases in your back pocket to give yourself instant credibility. For example, every time the offense (the dudes with the ball) completes a pass (gets it to another dude on the same team) say, "Man the defense blew that coverage!" Or every time someone tackles someone really hard say, "He got trucked" or "Hit stick!"
9. Take Frequent Phone Calls or Bathroom Breaks
Leaving the room for various excuses will give you plenty of time to look up more information on the game whenever you run out of lines (Twitter will be your best friend). Or it will give you a chance to be entertained for a minute and tune into anything else other than football (Instagram, Pinterest, or this cute puppy video). Pacing yourself is crucial.
10. When All Else Fails, Keep Your Mouth Shut
It's important to spend a lot of time staring intently at the game without speaking. Trust me, I've gone into overkill once or twice. At least look like you're watching the game while you spend that time planning your week or grocery list. Also, if anyone asks you a question about the game that you don't know the answer to just keep staring at the screen and giving them a "wait a second" finger like you're really into it and they are distracting you.
Super Bowl Sunday is a difficult night for some women, but it's well worth the effort to impress friends or the cute guy in the room. Be sure to constantly remind yourself that it's only one night and you don't have to suffer through it again for a year. Plus, you have the commercials to offer a little entertainment.
Funny side note: I'm actually going to the Super Bowl this year – not for the actual game (wouldn't that be miserable) but to help with an event surrounding it. This will be the ultimate test for my cheat sheet here. Wish me luck!
Question: What other tricks do you have during sporting events to seem informed? I'm always looking for new ones.
Related Content: 10 Tips for Clueless Women Watching the Super Bowl: 2016
(Visited 510 times, 1 visits today)
Comments
comments